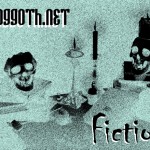 I shall not hold you in suspense, Dear Reader, as I leave you with the burden of these, my final words. The 'Death' in the title of this note is, of course, mine own. Why I chose All Hallows' Eve to perform my final act is pure coincidental timing. The gray aliens killed my mother. Then a group of Deep One cultists carried my father away to a watery demise. In both cases I could do nothing to intervene. The gray aliens somehow froze me and the cultists hit me on the head and knocked me unconscious. I am alone but not for much longer, Dear Friend.
I hope I prepared whoever finds me with the emergency signs I printed for the windows:
WARNING! CARBON MONOXIDE GAS! DO NOT OPEN DOOR! CALL 911!